Now you can invest in New Sapience on StartEngine
Now you can invest in New Sapience on StartEngine
When you are ready to invest, click on the startEngine icon below. But, before you go, if you are new to the startEngine platform, here are few tips and guidelines that you may find helpful as you navagate the StartEngine site.
When you go to our campaign page, for the first time, click on the "Invest Now" button, that takes you to the Sign Up/Login page: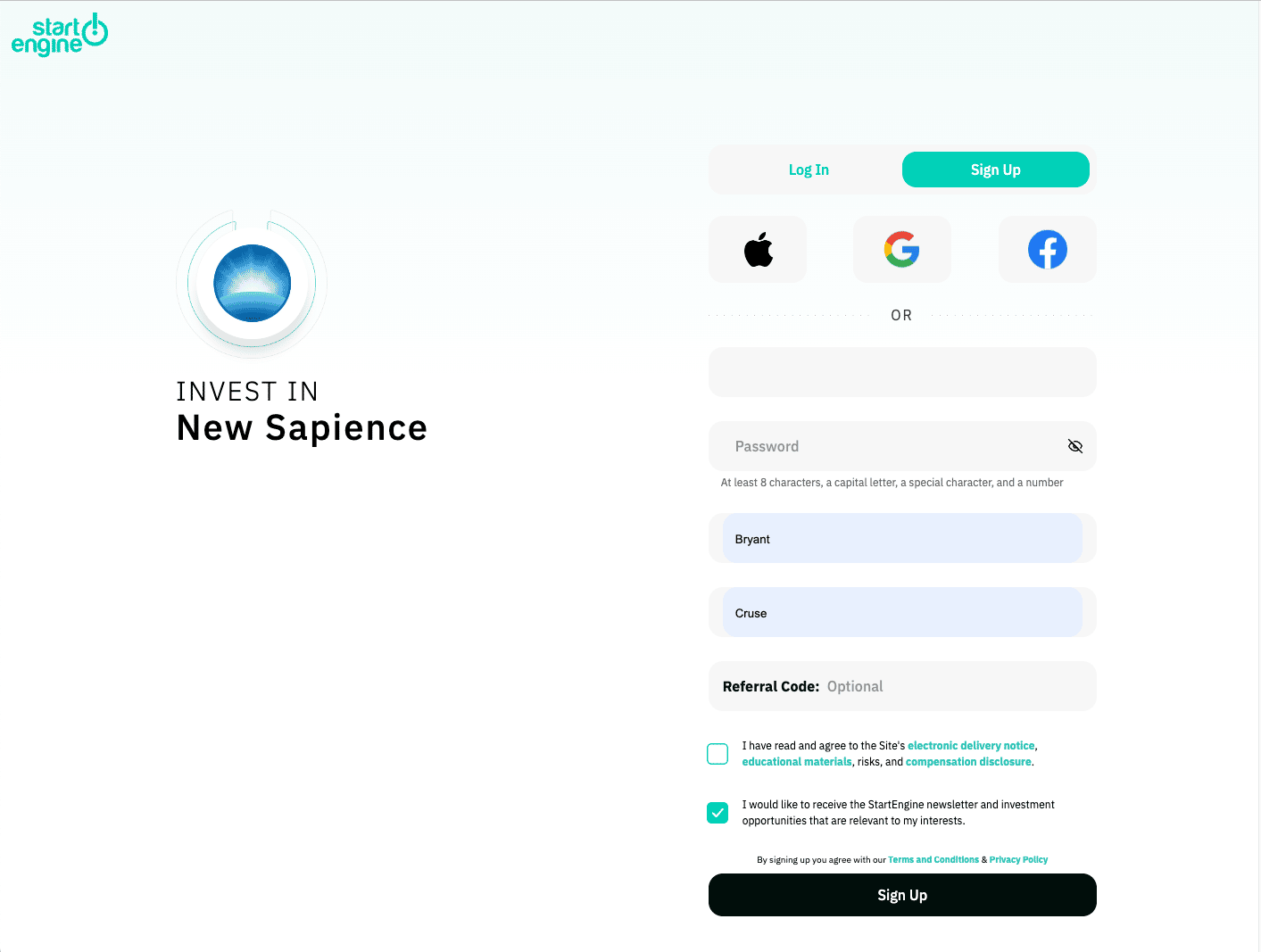 Select "Sign Up" – For existing investors, you want to register using the same email address you received this email on because that is the one that will identify you as an existing investor and give you your loyalty bonus shares.
(If that address is also the same as you use on one of the three social media accounts at the top of the page click on the appropriate button and that will save you having to create a new password for your StartEngine account.)
Otherwise enter your email address and create a password (at least 8 characters, a capital letter, a special character, and a number)
Enter your first and last name
There is no referral code
Click on the "I have read and agree….." check box
Click the Sign-up button.
You should see a "success" pop up that your account has been created
STOP: close your browser window
Open your email client and look for an email from StartEngine with the subject: Action Needed: Verify Your Email
Open the email and click the "Confirm Your Email" button. That will cause a new browser window to open with the StartEngine home page. From there navigate back to  https://startengine.com/new-sapience/ and click the "Invest Now" button again.
Now you are back to the same screen shown above but this time..
Select "Log In" and enter your now validated username and password.
Are you having problems with the StartEngine Website? Tell us about it and we will get back to you immediately