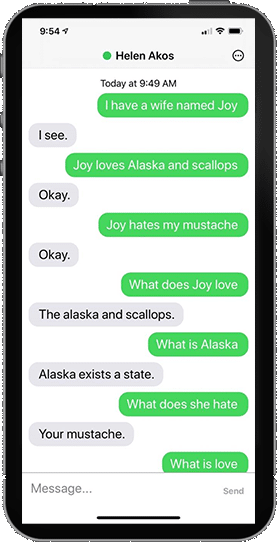 Our app has been designed to conform to the Apple recommended styles and design elements
Your sapiens exists on our server in the cloud and you can access directly through any web-browser by going to https://alpha.newsapience.com and logging in with your social media account.  The iPhone app provides a convenient alternative way to communicate with your sapiens and greatly enhances its usability especially of you just want the tell or ask it something as you go about your daily routine.
Getting the App
When we get to the product stage our customers can get their sapiens just by signing up on our website or downloading our app. In the meantime, getting to your sapiens has about as many steps as getting married. Please be patient as you work your way through the process:
Monitor your inbox. As soon as your sapiens has been created, we will initiate an email that comes from Apple App Store Connect with the subject "You're invited to join a development team."  Check your spam folder
Click on "Accept invitation" and then follow the instructions to create an Apple Developer account. This is necessary because our Mikos iPhone app through which you will be talking to your sapiens is itself in "beta" and not yet approved by Apple as a regular iPhone app.
Monitor your inbox again for another email from Apple App Store Connect this will contain a redemption passcode for an app on the Apple app store called TestFlight.
Go to the App Store on your iPhone and download the TestFlight.  Open the app and enter your passcode.  The app will then invite you to download our app: Mikos.
Download Mikos and run it. Click on the button for the social media account you selected in step 2.
Say Hello to your sapiens (optional)
Using the App
Speech inputs
To speak your inputs, press the microphone icon at the bottom of the keyboard widget that displays when you touch the input field at the bottom of the screen. Make sure the iPhone's speech-to-text routines are typing out what you meant to say, otherwise correct them with the keyboard. Generally, speaking inputs will not always result in getting the correct punctuation like putting a question mark at the end of a sentence. Generally, the sapiens can recognize questions regardless but that is not guaranteed. Be careful about capitalizations. Proper nouns are handled differently than common nouns.
Providing Feedback
If your app gives you a crash message always choose to send diagnostic data – it goes back to us.
Whenever you have an interesting exchange, because something doesn't work that you expected to – or the other way around, use the app to email the conversation back to us here: ralu236baxi@post.wordpress.com  This will cause your conversation to be posted here where it can be reviewed